Created in January 2015, the éditions de l'Institut Coppet has already published more than 140 books from the french classical liberal tradition. In January 2018, we have started to publish in English as well. — All our books are available freely in PDF.
Already published in English :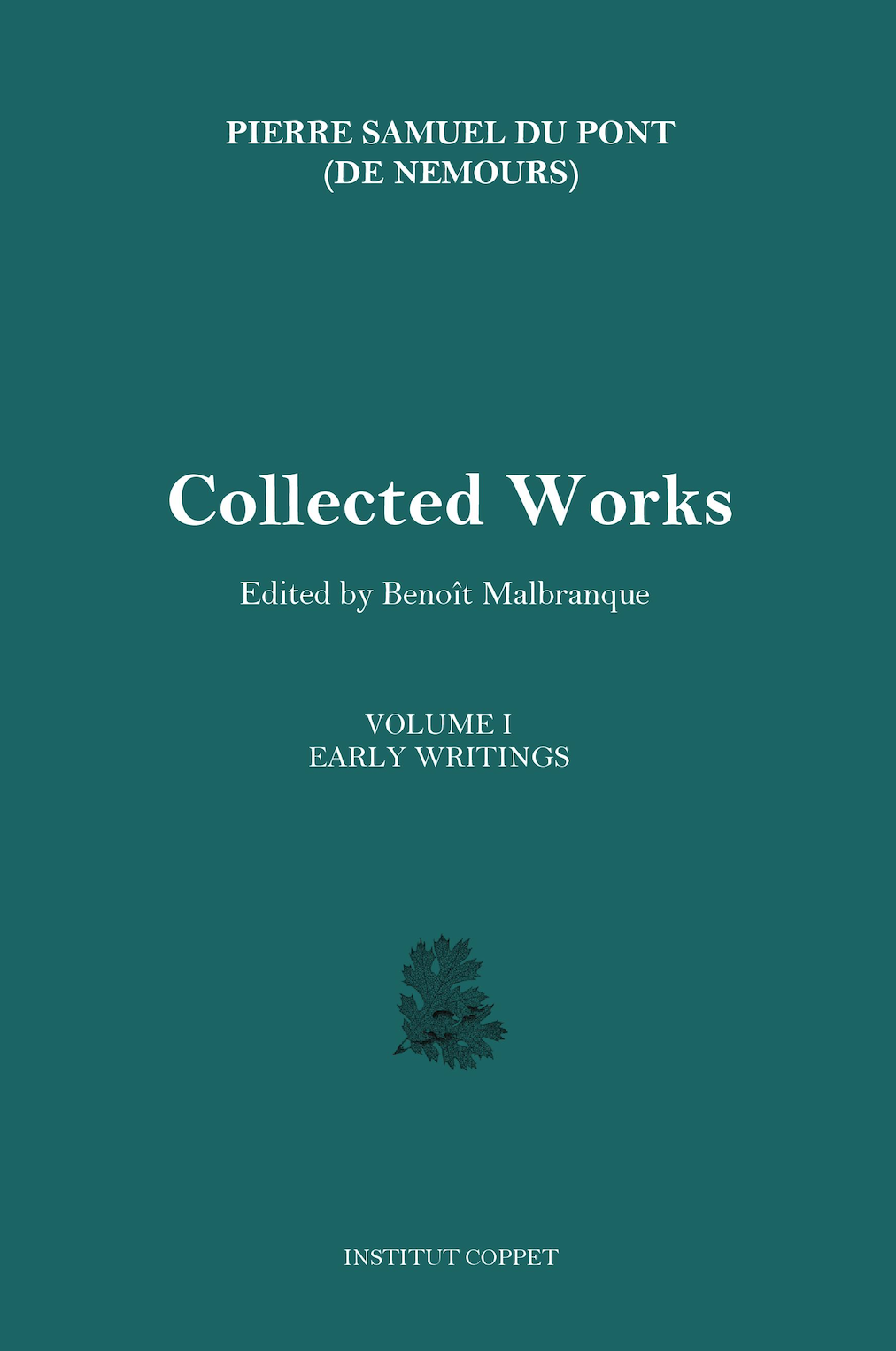 Collected Works of Pierre Samuel Dupont (de Nemours). Volume 1
In 2019, the Institut Coppet in Paris has initiated the long-overdue publication of the collected works of physiocrat economist Pierre Samuel Dupont de Nemours (texts in the original French; introduction and notes in English), with the aim of having his merit as a thinker more widely and fairly recognized. — The first volume, covering his early writings (1763-1764), offers almost ninety percent of new documents, obtained from archives and libraries both in France and in the United States, shedding new light on Physiocracy and on the history of political economy in 18th century France.
Paperback edition ($19.00)
Hardcover edition ($25.00)
Free ebook edition :
EPUB — MOBI — PDF — HTML — DOC
---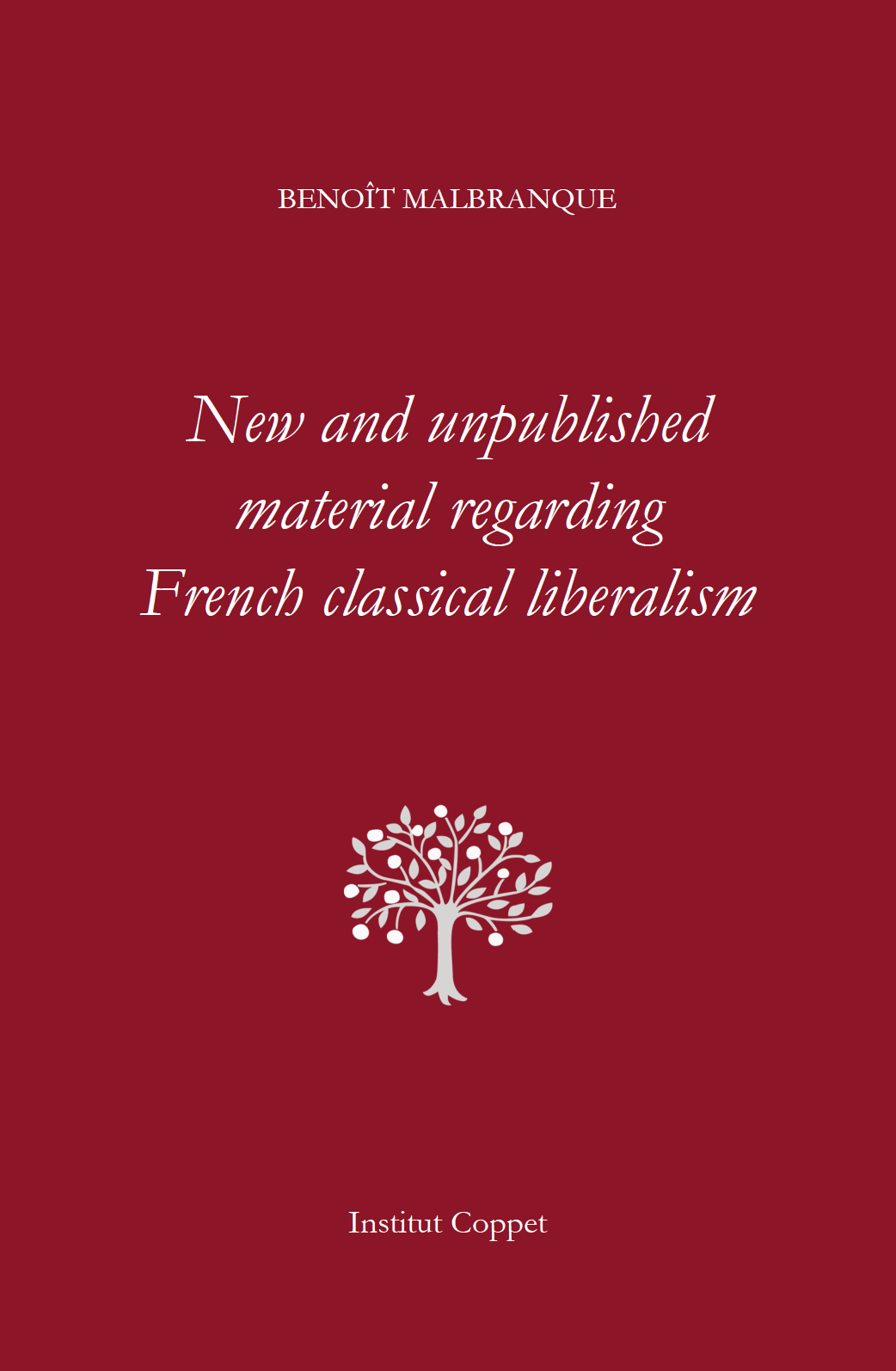 Benoît Malbranque, New and unpublished material
regarding French classical liberalism

French classical liberalism is commonly recognized as one of the greatest traditions of promoters of freedom. Yet this recognition and the help these authors provide is limited by a great number of misconceptions, which stem from the fact that, up to this day, historians and commentators have relied upon scattered and limited sources.
In this book are published a wide range of new and unpublished documents, from renown authors such as the physiocrats, Bastiat, Molinari, J.-B. Say, Yves Guyot, among other names. These writings, offered in both original French and English translation, and carefully annotated, uncover new aspects of French classical liberalism and will be of great value to scholars and lovers of liberty alike.
Paperback edition ($6)
Free ebook edition :
EPUB — MOBI — PDF — HTML — DOC
---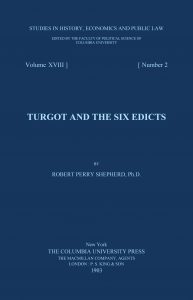 Robert Perry Shepherd, Turgot and the six edicts

In this book, professor Shepherd offers a comprehensive study of the radical reforms enacted by Turgot in 1776, which aimed at establishing in France a free-market economy. At a time when the ancien régime was already falling apart, the newly appointed Minister tackled its most aberrant and archaic features by putting forward the freedom of labor, the freedom of trade, and the abolishment of economic privileges. Twenty years before the Révolution française, these bold reforms were designed to overhaul the monarchy and avoid turmoil.
The author provides the first full translation of these six edicts and thus enables the reader to make sense of this very daring project.
---
For more books see the website of the éditions de l'Institut Coppet (in French).